Kendall Kroesen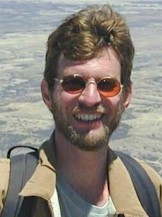 Current Employment
I work as an independent consultant on design and implementation of restoration and Permaculture projects.
Education
Degrees: BS, PhD in anthropology
Permaculture Design course certificate
Interest
On the local level I would like to understand what constitutes sustainability, particularly here in the Sonoran Desert, and how many ways there might be of organizing sustainable human society. I would like to explore social forms that allow for maintenance of natural ecosystems and threatened wildlife alongside humanity. This all involves looking not only at the technical mechanisms for sustainable building, food production, and resource use, but exploring urban design, forms of local democracy, and the means by which society might meet a variety of social and spiritual needs.
In earlier teaching and research I have explored what makes societies successful, both in terms of resource use and sociopsychological adjustment. The persistence of human beings over hundreds of thousands of years attests to the general sustainability of the traditional, small-scale societies that were the dominant form of social organization until very recently. The waxing and waning of larger societies (kingdoms, empires, etc.) over the last 5,000 years suggests a different, more difficult-to-sustain social organization. Today's commerce-driven, globalizing, mass society is still very new and it is difficult to see its future. However, ominous trends include its rate of resource use, tendency to decrease cultural diversity,  production of weapons of mass destruction, and creation of wide gaps between regions and classes.
Projects
My most recent job was working as the Tucson Audubon habitat restoration director, working mostly along the Santa Cruz River in Pima and Santa Cruz Counties, are restoring and enhancing riparian habitat. In some cases are they rehabilitated abandoned farm fields and pastures. These projects employed Permaculture design concepts, including rainwater harvesting, to make restoration successful and sustainable. The goal of the restoration projects was to encourage and support functioning ecosystems that provide habitat for native wildlife.
Tucson Audubon is currently developing an urban initiative to bring more sustainability to the Tucson metropolitan area. In particular it will focus on what we call "rainwater-based habitat landscaping". Tucsonans are generally very aware of the need for water conservation and the concept of "xeriscaping". But xeriscapes are usually installed in ways that repel rainwater, emphasizing rock mulch and few plants. it adds up to landscapes that are little used by birds and other wildlife. These same landscapes can include much more plant diversity and density, more structural diversity, organic mulch, and dependence on harvested rainwater rather than irrigation.
In 2004 I served on a research team organized by The WLB Group, Inc., and funded by the City of Tucson, to plan a Tucson Origins Heritage Park. The park has been partially reconstructed with historic buildings and other development to show the geological, biological and cultural origins of Tucson.
I participate in some of the teaching efforts of the Sonoran Permaculture Guild, mainly teaching a session during the annual 72 hour design course.  I am working to help the Guild teach that sustainability is not only a collection of techniques, but a site-specific, creative, and energetic combination of techniques patterned after local ecosystems, that solves local problems of survival in a locally appropriate way.