One Day Workshops and Classes
Fall One Day Workshops and Classes
We are too busy with other projects this Fall to teach one day workshops, but our 29th Annual Permaculture Design course is a go as usual in Feb. and March of 2024. See the link on this website for more info!
Introduction to Growing Food at Home – Date TBA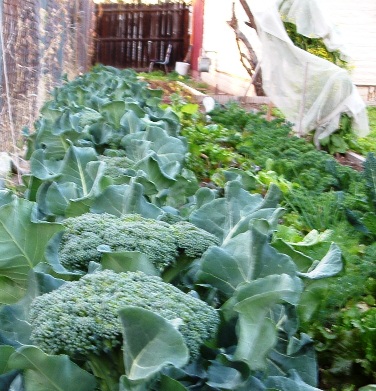 The future of sustainable agriculture will be in small to medium scale organic food gardens grown right in and around our cities, including "back yard" gardens. In this in-person workshop, you will learn about desert adapted food production strategies such as sunken garden beds, self-watering containers, edible native plants (desert food forests). We will learn together how to increase your garden's health, production, and nutrient value, using an integrated system of composting, vermiculture, mulch, companion plant selection, and irrigation to improve fertility, structure, and life in your soil. We will discuss how to produce food with minimum water use and how to troubleshoot some of the most common challenges in our area such as  pest management, hot and cold weather and where to find what we need to start growing our food now.
Location: Las Milpitas Urban Farm – 2405 South Cottonwood Ln, Tucson, AZ – Time: 9:00AM – 12:00PM – Cost: $35 – class includes an optional fall selection seed package and additional online educational materials. Taught by Erick Meza, Farm Education Coordinator at Las Milpitas Community Farm. The class will be held outside. 
Natural Building and Passive Solar Design – Date TBA
This is two workshops in one. First we'll do hands on building using adobe blocks, straw bale, cob, and earthen plaster, talking about each of the materials and how they are used. In the afternoon, we'll talk about good passive solar design principles that work for any material and any structure. Emphasis will be on doing an integrated design of our house to be built or existing homes and getting back in touch with the patterns of nature, so we  can make design decisions that are in tune with the environment. We'll discuss how using natural building materials and good passive solar design principles can help make our living environments more healthy and comfortable, reduce pollution, and save us money on utility bills.
Location: The Sonoran Permaculture Guild office/classroom site, located 1.5 miles north of downtown Tucson – Time: 9am-3:30pm – cost $79 – Class size is limited to 10 participants – includes how to class handouts. Taught by SPG Lead Teacher Dan Dorsey. The class will be held outside. 
Registration Info for workshops and classes
How do I register for a class or workshop?
You are registered for a class or workshop when we receive your payment in full. There are three ways to pay and register. Remember if the workshop header says to register through a co-sponsor, use the directions in the description of the workshop instead of the following.
1. By Mail – Checks and money orders can be made to Sonoran Permaculture Guild LLC. Please mail only checks and money orders (no cash) to: Sonoran Permaculture Guild, c/o Dan Dorsey 221 E. Linden Tucson, AZ 85705. Include your return address, e-mail, and phone number, and we will send you an e-receipt or phone call confirming your registration
2. In Person – You can travel to our office and drop off a money order or check made to Sonoran Permaculture Guild LLC, or cash, and give it to Dan Dorsey, the SPG registrar, and a receipt will be issued to you at that time. Please E-mail or call 520-624-8030 to schedule a time before you travel here to make sure someone is in the office. Our office is one and a half miles north of downtown Tucson.
3. By Credit Card – online registration
1. Click on the 'Buy Now' button on this page.
2. When it takes you to the secure PayPal site, where it says 'Purchase Details', type the name of the workshop(s) or course you want to take – Example: 'Growing Food at Home'. In the 'Item Price' Box, put in the amount you are sending – Example: '$35', then click on the 'Continue' button.
3. This will take you to a page where you are given the option of paying with your PayPal account or with a credit or debit card. If using a credit or debit card, click on the 'Pay with debit or credit card' link.
4. Enter your Credit or Debit card info and press the 'Pay Now' button.
If this process doesn't work, you can give our office a call, and we'll enter your info on-line to complete the transaction. Call Dan, the registrar, at 520-624-8030
If after I register and pay what if I need to cancel?
Our refund policy is as follows: Up to three weeks before the class, you will receive a full refund minus a $5 refund and processing fee. Up to ten days before the class you will receive one half of the class fee as a refund. If you cancel after ten days before the class date, there is no refund, but if you let us know you are cancelling at least two days before the workshop, we will give you some partial credit to use toward a future class. If the class you are signed up for is full with a waiting list, and we can fill your cancelled spot, you will receive a full refund minus a $5 processing fee up to the day of the class.
Can I get college credit or continuing education credit for taking any of these classes?
Some of our participants have been college students, and they have worked with their departments at the University of Arizona, Prescott College, and Pima Community College to obtain independent study credit for taking our courses and classes. It is up to the individual student to work out the arrangements with his or her college or department for credit. Other participants have been able to take continuing education credits for our workshops and classes, but again it is up to the participant to work out the arrangements with their certifying organization.
What if I have additional questions about what to expect in the classes?
E-mail the course registrar at dandorsey292@gmail.com