One Day Workshops and Classes
Sonoran Permaculture Guild partners with other organizations such as Bean Tree Farm for additional workshops and events, as well as internships and work-study arrangements. More info here
Scroll down to the bottom of this page for registration info on Sonoran Permaculture Guild's Fall workshops and classes
SPG Spring 2018 One Day Workshops and Classes
Introduction to Sustainable Landscape Design – Thursday, January 25th, 2018
This workshop is co-sponsored by the Tucson Botanical Gardens – Please register through this organization as described at the bottom of the description of this class. Please don't register through Sonoran Permaculture Guild for this particular class.
In this design workshop you will learn how to map out the natural story of the place      where you live, and then  put together an exciting, long term plan for your sustainable home and landscape – one that takes care  of people and takes care of the environment at the same time. We will practice the skills and strategies needed to do Permaculture design, like mapping out the natural and person-made forces that effect a site and using simple elevation finding tools. Bring a sketch of your site or yard that you want to design. Class size is limited to 12 participants.
Location: Tucson Botanical Gardens – 2150 North Alvernon – 9AM to 4:00 PM
Cost: $80 with 20% off for TBG members – includes all course materials and handouts
Taught by Dan Dorsey, Lead Teacher for Sonoran Permaculture Guild. Contact for registration is the Tucson Botanical Gardens at: https://www.tucsonbotanical.org/class/sustainable-landscape-design/ You can also call for more information at 520-326-9686, Ext. 18. 
Beekeeper Training – Saturday and Sunday, February 24th and 25th, 2018

This is one or two full days of training and will be held at the San Xavier Cooperative Farm, 15 minutes south of downtown Tucson, Arizona.
The activities of honey bees will be studied in both a classroom setting and through hands-on examination of active hives.  We will look at reproduction patterns, seasonal population dynamics, the various responsibilities of the queen, worker and drone, and the honey bee's complex set of duties such as pollination, storing resources, and making wax combs.  Information about how to prepare for the training will be sent to registered students approximately 10 days prior to class. Instructor Jaime de Zubeldia, co-owner of Sun Apiaries, has been keeping bees intensively in Southern Arizona for the last decade, with hobby level experience stretching back to the late 1980's.
Beginner Level Topics – Saturday  (Start time is promptly at 8:00 am)​
Brief introduction, Beekeeping History
Seasonal Patterns, Swarming, Health and Pests
Managing Defensive Colonies, Safety precautions
Late morning Hive Inspections
(Lunch on your own, 12:30-1:30)
Obtaining Bees: Packages, Nucleus Colonies, Queens
Hive Styles, Harvesting Equipment
Locating the Hive and Apiary – Urban and Rural
Conclude 5:00pm
Important Note: If you have no previous beekeeping experience, it is highly recommended that you take both days, as the instructor will have limited time to answer your questions on the basics on Sunday.
Intermediate – Sunday  (Start time is promptly at 8:00 am)​
Population Dynamics, Pests and Diseases
Proper Nutrition and Food Resources
Queen Rearing, Selection, Grafting, Banking
Late Morning Hive Inspection
(Lunch on your own, 12:30-1:30)
Harvesting Needs, Product Quality, Marketing
Combining Hives – How, Why, When?
Planning Winter Survival, "Off-Season" Work
 Conclude 5:00pm
Location:  Final directions and information about how to prepare for the training will be sent to registered students one week prior to class. The San Xavier Coop Farm is located approximately 15 minutes south of downtown Tucson near the San Xavier Mission on the Tohono O'odham tribal lands.  Cost: You may register for just one day – either Saturday or Sunday – or both days, but again unless you have some previous beekeeping experience, it is highly recommended that you register for both days.  The early bird discount before January 30th for only one day is $100, or for both days $200 total. After January 30th, the cost is $120 for one day; or $240 for both days. This workshop is taught by very experienced beekeeper Jaime De Zubeldia. See the registration information at the bottom of this page or contact Dan at dorsey@dakotacom.net for more registration information.
Introduction to Growing Food at Home,  Saturday, April 7th, 2018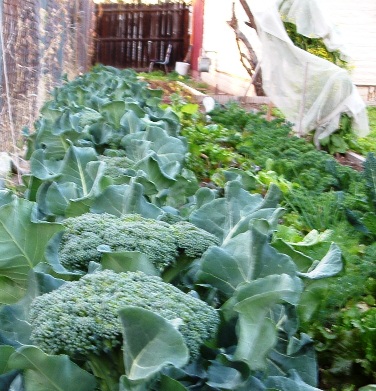 The future of sustainable agriculture will be in small to medium scale organic food     gardens grown right in and around our cities. In this workshop that includes hands-on work, you will learn about desert adapted food production strategies such as sunken garden beds, self-watering containers, and aquaponics. We will show you how to increase your garden's health, production, and nutrient value, using an integrated system of composting, vermiculture, mulch, companion plant selection, and irrigation to improve fertility, structure, and life in your soil. A special emphasis will be placed on producing our own inputs for soil fertility using the fermentation process. Specifically, we will discuss how we can use key Korean Natural Farming techniques like Oriental Herbal Nutrient, Bokashi, Fish Hydrolysate, and Lacto Bacillus Serum to grow our soil. We will discuss how to produce food with minimum water use. We will use a Sonoran Desert Food Forest framework- a diverse layering of annual and perennial food plants that can help increase garden health using Permaculture design strategies as the guiding theory for this class.
Location: The Community Food Bank Farm, Las Milpitas de Cottonwood, at 2405 South Cottonwood Lane, Tucson – Time: 9:00AM – 12:30PM – Cost: $35 – Class size is limited to 18 participants and​ includes all class materials and handouts. Taught by Zotero Citlalcoatl. See registration info at the bottom of this page or contact Dan at dorsey@dakotacom.net. 
Introduction to Aquaponics Design – Saturday, May 5th, 2018 
  Aquaponics is the combination of Aquaculture and Hydroponics, meaning the system produces both fish and vegetables. We will cover the different types of aquaponic systems and discuss the pros and cons of each method and technology that can be used to set up a system. The emphasis of the workshop will be on how to design and build an aquaponic system that will work for you and your budget.  Aquaponics design ratios, rules of thumb, the nitrogen cycle, pH, microorganisms, pest management, food production, and food safety will be covered. We will also cover how to fit an aquaponics system into an overall integrated design for your landscape.  Optional : Aquaponic Gardening: A Step-By-Step Guide to Raising Vegetables and Fish Together by Sylvia Bernstein, and The Biodome Garden Book: The Only Greenhouse Design That Needs No Electrical Ventilation or Humidifying System by Patricia Watters.
General background reading: Rainwater Harvesting for Drylands and Beyond, Volume 1 and 2 by Brad Lancaster and Introduction to Permaculture by Bill Mollison
Location: Eco Grow, located at 657 W Saint Mary's Road,Tucson, AZ – Time: 9:00 am – 12:30pm – Cost: $35 – Class size is limited to 18 participants  and includes all class materials and handouts. Taught by Zotero Citlalcoatl – See registration info at the bottom of this page or contact Dan at dorsey@dakotacom.net 
 Registration Information for Sonoran Permaculture Guild's one day or half day classes and workshops:
How do I register for a one day or half day class?
You are registered for a class or workshop when we receive your payment in full. There are three ways to pay and register. Remember if the workshop header says to register through a co-sponsor, use the directions in the description of the workshop instead of these.
1. By Mail – Checks and money orders can be made to Sonoran Permaculture Guild LLC. Please mail only checks and money orders (no cash) to: Sonoran Permaculture Guild, c/o Dan Dorsey 221 E. Linden Tucson, AZ 85705. Include your return address, e-mail, and phone number, and we will send you an e-receipt or phone call confirming your registration
2. In Person – You can travel to our office and drop off a money order or check made to Sonoran Permaculture Guild LLC and give it to Dan Dorsey, the SPG registrar, and a receipt will be issued to you at that time. Please E-mail or call 520-624-8030 to schedule a time before you travel here to make sure someone is in the office. Our office is one and a half miles north of downtown Tucson.
3. By Credit Card – online registration
1. Click on the 'Buy Now' button on this page.
2. When it takes you to the secure PayPal site, where it says 'Purchase Details', type the name of the workshop(s) or course you want to take – Example: 'Bee Keeping'. In the 'Item Price' Box, put in the amount you are sending – Example: '$250', then click on the 'Continue' button.
3. This will take you to a page where you are given the option of paying with your PayPal account or with a credit or debit card. If using a credit or debit card, click on the 'Pay with debit or credit card' link.
4. Enter your Credit or Debit card info and press the 'Pay Now' button.
If this process doesn't work, you can give our office a call, and we'll enter your info on-line to complete the transaction. Call Dan, the registrar, at 520-624-8030
If after I register and pay what if I need to cancel?
Our refund policy is as follows: Up to three weeks before the class, you will receive a full refund minus a $5 refund and processing fee. Up to ten days before the class you will receive one half of the class fee as a refund. If you cancel after ten days before the class date, there is no refund, but if you let us know you are cancelling at least two days before the workshop, we will give you some partial credit to use toward a future class. If the class you are signed up for is full with a waiting list, and we can fill your cancelled spot, you will receive a full refund minus a $5 processing fee up to the day of the class.
Can I get college credit or continuing education credit for taking any of these classes?
Some of our participants have been college students, and they have worked with their departments at the University of Arizona, Prescott College, and Pima Community College to obtain independent study credit for taking our courses and classes. It is up to the individual student to work out the arrangements with his or her college or department for credit. Other participants have been able to take continuing education credits for our workshops and classes, but again it is up to the participant to work out the arrangements with their certifying organization.
What if I have additional questions about what to expect in the classes?
Call or e-mail the course registrar at dorsey@dakotacom.net